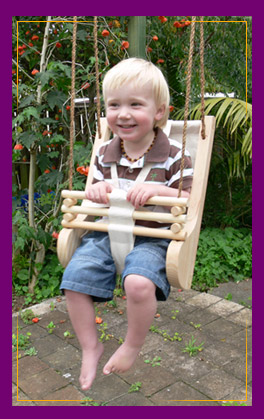 Welcome to LovesCreations.co.nz If you are considering purchasing one of our products, you have chosen well. Every piece has been assembled with meticulous care from all wooden natural untreated material, as there is nothing more precious than our little one's safety and enjoyment. For you, the customer we can guarantee that what we offer is a secure on-line service world wide. Be sure to keep in touch with this website as we have been working on new products for all age groups that will be sure to put a smile on a few faces as the memories are relived. Sit back and watch the enjoyment given with the knowledge that they are in safe hands – quality that lasts longer is money well spent.

At Loves Creations Ltd we are committed to offer you an easy navigation throughout our website with a range of products to choose from. Our products include: Single Child Swing, Twin Child Swing, Triple Child Swing, Collapsible Portable High Chair, Heavy Duty Calico Bag.

Click here to visit our "Products Range" section for more info on each product we offer.